Indian Premier League Cricket, abbreviated and more popularly known as IPL Cricket, was created by BCCI in the year 2008. Shortly after the league was formed, IPL Chairman and Commissioner Lalit Modi unveiled the trophy, to be received by the winning team. A diamond-studded beauty, adorned with rubies as well as yellow and blue sapphires, the trophy was revealed to the public eye on 19th May 2008, in Mumbai.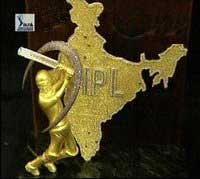 Tata IPL Cricket trophy comprises of a player in a gold leafing. He is shown holding a bat in his hand, next to a map of India. On the map, the names of all the IPL teams have been engraved, symbolized by eight rubies. It took a team of as many as 14 craftsmen to make the trophy, with Mona Mehta as its chief designer. Every year, the winners of the IPL T20 tournament are presented with a replica of this trophy, along with the prize money.
Tata Indian Premier League Cricket trophy is said to be handcrafted, for a price that Lalit Modi did not reveal on its launch. An 'expensive' piece of art, it was crafted by Orra's design team. Orra diamond brand, owned by Antwerp-based RosyBlue Group, has a long-time relationship with BCCI. It also designed the trophy presented to Anil Kumble, by the BCCI, when the bowler made of record of having taken 600 Test wickets.